Wanderlust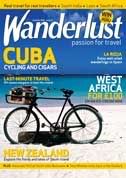 It's about dat time. I have been in the states too long (3 frigging years). Since I've decided to come out of hibernation and be social, I keep hearing the same thang. "Your still here?" "Oh, are you still with that brotha? No? Why are you still here?" "Where have you been? Here!!!!"

Every 2 - 3 years I get an itch. The only way it can be scratched is if I gets the heck outta here. And I believe it is about that time. The new guy I am dating says if I had peace of mind I would stop traveling. No, if I was a boring person with tunnel vision, I would stop traveling. This time around I am contemplating Central/South America. Actually, a friend of mind recently gave me both Vogue and Vogue Hombre Latino America - I've been reading it everyday. Even WASPy Vogue has more flava outside of the states.

I do notice a small pattern. When I do decide to disappear, I'll meet a nice guy that I would like to spend some monogamous time with - then I decide to get the helllllllll away. Ironically, I have done this twice and was able to pick up (the relationship) exactly where it left off.

Savannah is a small town with a lot of hatahs, here freedom comes with a price. Other places freedom just costs you a plane ticket and you are allowed to be a expansive and free thinking as you want to be. My friends are like you are so lucky to live such a private life. I'm like, f---! Y'all left here and became famous or almost famous. Sometimes it pays to leave your comfort zone.

At any rate I am about to go hang out in the big city (lol - country ass Atlanter). I'll see y'all when I get back.