I Think, Therefore I Craft!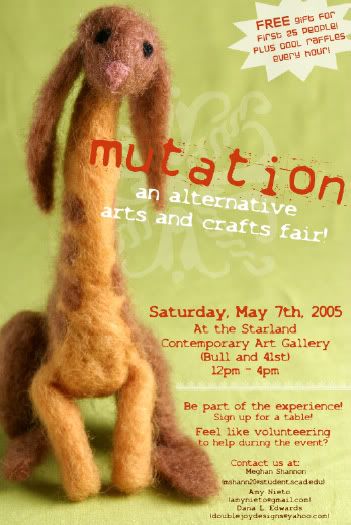 I am so excited! I am part of the planning committee that is coordinating this event. An Alternative Arts & Crafts Fair here in lame ol' Slovannah! The theme is Mutation, you know, one thing changing into another. For those of you who can make it will be at Starland Gallery (41st & Bull), Saturday, May 7th, 12:00 PM - 4:00 PM.

The items I plan to make and sell are:

Crochet bikini tops and purses,
Crochet brass and silver jewelry,
Rasta bling rings,
Cigar box purses, and
Domino art jewelry.

As soon as I get the film developed, the merchandise will be here for you to view (and purchase).

I'm crazy busy. I have two orders one for the store (Afrika in Savannah) I am the buyer for; and for a wholesaler friend of mine. Plus, I have one birthday and two graduations where the specific request was for "hand crafted items".

At any rate I will not be posting or commenting as frequently (well, I seldomn post already) for the next week and a half. So with out further adieus:
Imara, girl…hold it down – you gotta deal with Soundboyz. You have the patience of Job. Sorry about attending anniversary party sans gift. That fool didn't even send me an invitation. So please accept these gifts here, here, here, here, and...here! I can't wait for the next partayyyy.
Geekbird, be patient. Dope lyrics and fresh beats coming your way soon.
DJ Xplicit, I just received the beat back from my boy – now I need to listen to it (lol).
And Nzyme…ride those dolphins girl!

Thanks to all who read and comment on my blog. Soundboyz, thanks for always posting first. I am glad you finally have a committed relationship with your blowup doll, Dolly.