Martial Law - Parte Uno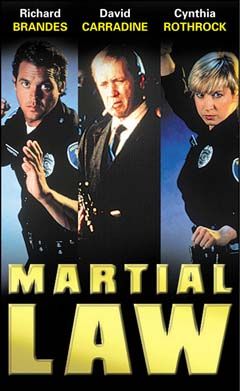 Living in Georgia is sublime hell. More specifically living in Savannah is like living in hell with palm trees. Don't get me wrong, Savannah is one of the most aesthetically appealing places you will find on the planet - but if you live here you know there is something inherently wrong. Those people who find the Hostess City perfect either a. walk around with their eyes closed (all 3) or b. they are part of the problem.

Georgia got its start as a penal colony; this state was founded by murderers, rapists and your garden variety crazies. When Sherman marched through Georgia he burned it down, but he found Savannah to be so "purty" he decided to spare her. He should have burned the mofo down to the ground! Fire is a cleanser and this place's energy has not changed since its antebellum days. When there is no change there is no progress or you will have the illusion of slow progress (i.e. time stands still here).

Last summer the powers that be decided to do the 90 Days of Summer Heat or whatever the hell it was called. This meant that if you drive on the interstate all you saw was the Man with his state of the art patrol car and scanner monitoring you. Making sure you are buckled up and obeying the speed limit. Right. For my protection....Right. Oh and they promise to be even tougher this year.

In Savannah, the city and the county have a new merged "relationship". Recently, a friend of mine was dropping me off at home at 9:00 PM (I live 5 blocks away) the road was blocked. There was a serious accident. All you saw was one patrol car with Officer Crufky (a la West Side Story) taking notes in his car. We never heard sirens. By judging by the looks of the car there should have been a body, an ambulance and the fire department present. Nothing but blinking silence. Scary...

The Mayor has begun his new war on crime. Before I go any further, I dig the Mayor he lives about 4 blocks away from me. The plusses the "boiz on da corner" are being picked up left and right - this has happened in just one week. The minuses are how it's being done. There are now helicopter sweeps at night, they are picking up cell phone transmissions... This is way to Gestapo/Orwellian for me.

What is more unfortunate is that all targets are profiled. If you are an African American male with locs (dreadlocks) BEWARE - you fit the profile. There was a time when you saw a person with locs you were a threat because you were politically active and culturally aware. Now you are a dealer or a member of Lil Jon & the East Side Boys (hey, I dig crunk music, but c'mon).

The corner boiz are just foot soldiers, if you want drug trafficking to stop - stop the multibillion/million traffickers and plantation owners that are the source.

It's a shame I can't go to the corner store for some Ben & Jerry's ice cream with out seeing helicopters circling. Thank God I have boobs, so I don't totally fit the profile.

Think of it as "legalized lynching".