Penumbral Lunar Eclipse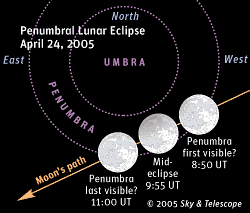 Two (types) eclipses in one month? 2005 is definitely the year folks. Those plans and great ideas you have been putting off.....just do it, do it, do it! I love astrological phenomena, I can't say it enough (like the word gargantuan). In Tahiti, eclipses have been interpreted as the lovemaking of the Sun and the Moon - oooooooooooooo.

There will be a Penumbral Lunar Eclipse on Sunday, April 24. It reaches its deepest point at 9:55 Universal Time, which is 5:55 a.m. Eastern Daylight Time. This particular eclispe will be barely visible, but hey it is still a celestial event. Our next total lunar eclipse will not be until March 3, 2007. What more info? Click it Sky & Telescope .

The Astrological Effects of this Eclipse

There can never be a Lunar Eclipse without an accompanying Solar Eclipse, but Solar Eclipses can occur without an accompanying Lunar Eclipse. Full Moons bring matters to fulfillment. If you have been working on a business deal or looking for some kind of settlement, this eclipse could finalize things. A Full Moon heightens feelings and emotions anyway, but they will be even more so because this Full Moon is occurring in a water sign (Scorpio). All eclipses produce stress in our lives as blockages begin to crumble followed by a feeling of freedom. Shock, they say, is good for the soul and a reminder of our humanness. Sometimes an eclipse signals the end of a relationship, sometimes the taking of a relationship to the next level and sometimes a change in marital status. At the very least, a stage in our lives ends and a new one begins especially for the signs directly affected by the eclipse.

On April 24, 2005 a Full Moon Lunar Eclipse will occur as the Moon passes through the constellation of Scorpio. At exactly 6:06 am the earth will be moving through the constellation of Taurus at 4° 20' blocking the light of the Sun to the Moon as it falls in direct alignment at 4° 20' of Scorpio. The environment will be a little unstable because, as with all eclipses, there is change in the electromagnetic energy that affects us neurologically and mentally. An eclipse in Scorpio usually emphasizes money, investments, venture capital and inheritance. Keep this information in mind as you go through this eclipse cycle because the April 24th eclipse promises to be a positive one with many good planetary signals accompanying it.

Read your Sun Sign below to see how this stellar event will affect you.

Arians (would this mean Two Dogs? pun intended for regular commenters) can expect long-term changes in a partner's finances. A career change over the next few months would not be a surprise. This eclipse will magically open new doors and avenues of abundance.

Taurus natives will experience a test in your marriage of current relationship. Long-standing seething issues come to the surface and need to be dealt with. A good relationship will survive.

Geminis have job changes in store and major shifts in the overall conditions at work. Those who hire others could see some shake-ups with employees.

Cancers have the opportunity to redefine their personality, image and appearance (dressing differently) and detox their bodies. New creative hobbies accompany this eclipse for Cancers.

This eclipse is very powerful for Leos so slow down a bit. Changes in the home and family pattern - possibly a move - are in store for you.

Virgos see changes in their intellectual interests. The neighborhood in which you live shows disruption and change. Get maintenance work done on your car.

Librans can look forward to important long-term financial change. Needed change that will ultimately lead to greater prosperity and greater financial health.

Scorpios experience a very powerful, intense time as this eclipse in Scorpio affects you the most as it occurs in your own sign. You redefine your personality and self-concept as there is a change in your image, the way you dress and the way you present yourself to the world. If you aren't clear as to who you are, you will be defined by others so take heed and be aware!!

Sagittarians see serious love as being complicated but this eclipse will clear things for you.

Capricorns see friendships and a current love relationship tested. You could see a change in your marital status.

Aquarians experience a very powerful, strong eclipse so it is advisable to slow things down a bit. Don't do anything you don't HAVE to do at this time. You can expect job changes.

Pisceans (these chicks ROCK :-)) see all obstructions just blasted away to your good. Important educational changes are happening and future education plans are at a turning point. Any love issues are straightening out. Information courtesy of Astrology-Source .