Carnivore Whore!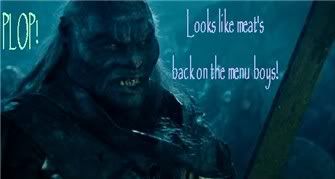 I have this blood lust. I'll be the first to admit it. I didn't realize how bad it was until the past weekend. I was insane. I thought I was just being hormonal (the moon was a waxing gibbous, Neptune went retro, yakkity-smakity you get the picture). Normally my fantasies would consist of Taye Diggs, Tyson Beckford, Antonio Banderas, Djimon Hounsou and myself in Martinique - um planning for world peace (yeah, right). Instead all I could think about was a rare steak, a rare burger, duck l'orange/peking duck, oxtails and curried goat.

Earlier this month for two consecutive Sundays I had a "macho breakfast", this consisted of two ho' made cheeseburgers and a Heineken. I mentioned this to some of my friends both veggie and non-veggie, male and female and I received the same consistent reaction - "Yeahhhhhhhh, that's what I'm talkin' about!" (Huh?)

About two months ago I was riding with some vegan friends up to Atlanta and the children said, "Ooo look cows". Of course being the crass individual I am, I replied "Yeah they would go great with a simple table red and rosemary potatoes". Children traumatized. Me rollin'. My best friend (suppressing her laughter out of respect for the hardcore-vegan-microbiotic family we are transporting), "You are in the car with two Tauruses that's cannibalism to us".

Just be glad I'm not eating it raw (hell, we can't do it raw nowadays –er– except vegetables). I wasn't always this way - just for the last five years. And I only eat meat once a week (twice max, unless I'm extra psycho). It may be psychological. If I'm feeling extra predatory I want a bun-length beef hot dog. Nah, scratch that I want a spicy beef sausage (the fatter the better)!

I have this Native American (his tribe is a subdivision the Hopi) "uncle" that I absolutely adore. It is not because of the rich cultural exchange of our peoples or how he babies me; it is because if I'm going up to the res (reservation) one of those cows ain't coming home. Ooooo and don't let it be a Holy Day/Event - meat galore. All blessed and holy - I'm doggin' it.

I have another dirty little secret. For the last three years once a season I eat up to four strips of pork bacon or four slices of pepperoni pizza. Two months ago I decided to be a naughty girl and order a bacon cheeseburger from the local college hang out. The delivery boy is usually your typical art school dude - not that day. It was a brotha with long locs (aww shit). He looked at me sternly (he's familiar with me through the work I do within the community [damn]) and never said a word. BUSTED!!! I've been punk'd by the Universe. I will not be touching those trichinosis-laden terrors again. A friend suggested turkey bacon – nah. (I don't get it. It's like how some women use sex toys – it just ain't the same. I want the real 'ting). She then suggested beef bacon (ahhhhhhh).

But regarding my lust/love for meat. I just can't shake it. Ironically, when I was a vegetarian I was forty pounds heavier (I was still fly just extra thick, plus I'm tall, but I digress). My skin is at its best. So perhaps the carnivore lifestyle works for me.

Oh, did I mention that I have little fangs?