Do I Have to Start My Day? I Just Want To Lounge.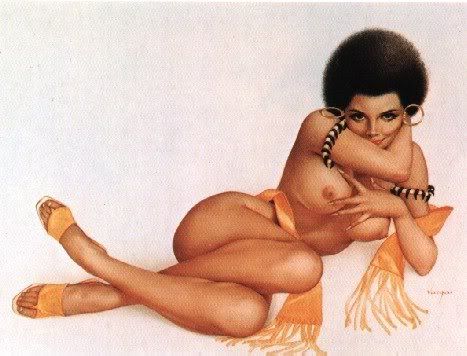 I'm roasted, toasted and stuffed. I'm so docile right now you can perform a coup de gras (on me) with some cotton candy--it would knock me the *bleep* out. My peach Lazy Boy Rocker/Recliner feels too good right now. I can just inhale glue and play with glitter all day. I'll ease in to the office during the afternoon. Yesterday was my best friends birthday...

Today's breakfast consisted of barbecue wings and seafood quiche (gotta give my girl Michelle props for that). I eat like this during the Winter Holidays. Crap! It is bad enough that I have to exercise, now I have "beer calories" to burn. Extra laps for me....Shit! It was worth it. The party had food galore, tequila and good people what else could you want? I'm a very simple person add this to money and copious amounts of *ahem* and I have found my own personal Nirvana. Yeah, that's the meaning of life to me. I keep it light and simple.

Ooo there were drummers! More than we anticipated! Drummers = Men. Vegan men! Conscious men! Ital men! Did I mention men?!? And my carnivorous-very-potent-tequila-and-sangria-drinking-behind was trying to be too cool. You see brothas refer to me as one of those Cindy Lauper women with a touch of Ciara. I'm a girl that just wants to have fun, but my goodies stay in the jar.

This was supposed to be a 2-hour get together that turned into 4 1/2. The Birthday Diva made a mix tape of 80s R&B (lol). She said it was 45 minutes long after its done folks gotta go. You know the finale folks, the Electric Slide and the encore the Electric Slide plus that Cha-cha thingie. Folks still would not leave!!! Ah, now I remember why - the after party was going to be at night club that just got padlocked by the IRS--boooooooooooo!

And so my day begins as I feel like I embody at least 5 of the 7 Deadly Sins. Let's review them shall we?
1. Pride (vanity) - Check.
2. Envy (jealousy)- Nah. I usually get hated on (please refer to #1.) .
3. Wrath (anger) - Check. Static. Start nothin', won't be nothin'.
4. Sloth (laziness)- Nah. Ditched this one when I left my 20s.
5. Avarice (greed) - Check. The World is mine and I want it ALL!
6. Gluttony (overindulgence) - Check. I enjoy my excessive not-so-rock starish lifestyle.
7. Lust (heh, heh, heh) - CHECKITY, CHECK, CHECK!