Fare Thee Well My Sweet Captains



3:00 AM (or something like that) Sunday I'm watching Andromeda. When next week previews come on - its the final episode. WTF!!! Say it ain't so!!! No more Capt. Dylan Hunt? It was bad enough when Tyr Anasazi(Keith Hamilton Cobb) became evil, cut off his locks and became one with the Abyss. He('s) fine! Sigh...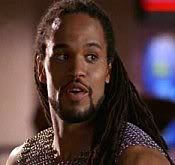 I was never a big fan of Enterprise (but I have been a Trekky since I was a little girl. Star Trek came on at 6:00 PM on WPIX Channel 11, Saturdays). Enterprise had Quantum Leap Guy, as Capt. Jonathan Archer and an over-sexed female Vulcan, so I gave it viewer support. Actually, my favorite episodes were the last ones that had the parallel universe Enterprise. The opening theme was even cooler. The sword through Earth insignia, stuff blowing up... Even the music was better. I couldn't stand the regular theme music. It sounded like (70s rock band) Styx. Yeah, I know the words to "Mr. Roboto" and "Don't Let It End" -- let's not go there!

I mean what's left?!? Matrix - Done. LOTR - Done. We have one X-Men and Spiderman left. No more Indiana Jones. The Hitchhiker's Guide to the Galaxy - originally four books and a BBC series. Dune - a whole slew of books and a remake (and then some). War of the Worlds - remake. What else is there? A remake of V? Hell there are six Star Wars. There's nothing left.

Fantasy Star Wars script:

Yoda: "Light-saber yours which is?"
Mace Windu: "The one that says bad motherfucker handling the Force."

I was going to post the lyrics to Michael Jackson's "She's Out of My Life" and apply to the captains. I'll spare y'all.

Update #1: Battlestar Gallactica - Starbuch is too macho and female. I hade a crush on the original (played by Dirk Benedict and he was part of the A-Team). (I mean I am secure in my sexuality [strictly dickly] and all, but women wearing a page-boy hair cuts and smoking cigars--uhgh).
Update #2: Favorite blog of the moment The Darth Side - Memoirs of a Monster.